Welcome to the Bluewater paradise of Los Barrilles.
A sleepy beach town hidden on the East Cape known by few for its incredible big game fishing opportunities. Where the warm waters of the Sea of Cortez mix with the cold pressing ocean of the pacific, a nutrient rich cocktail of extreme biodiversity is created.
While there is an impressive range of species to chase, most spearos come here for the illusive Wahoo. Rod and liners often struggle to land these incredible fish, yet we tend to have far better luck under the waterline. Clearly there are never any guarantees, but it's common to have a full fish bag by midday and head back in to start processing and breaking down the fish.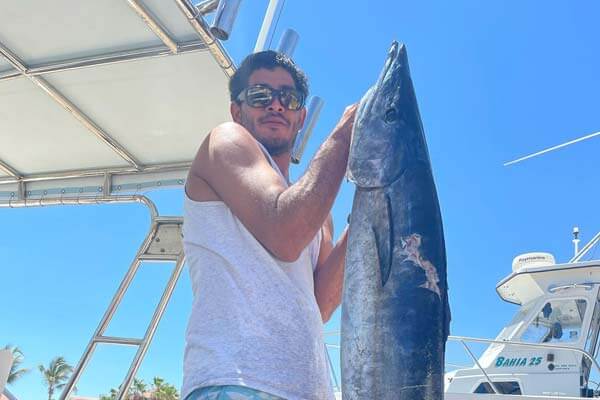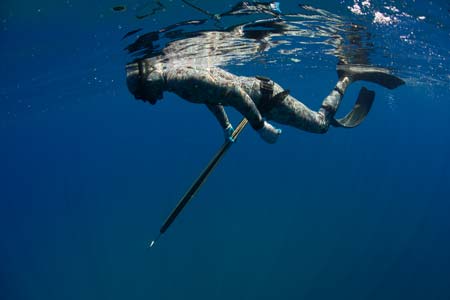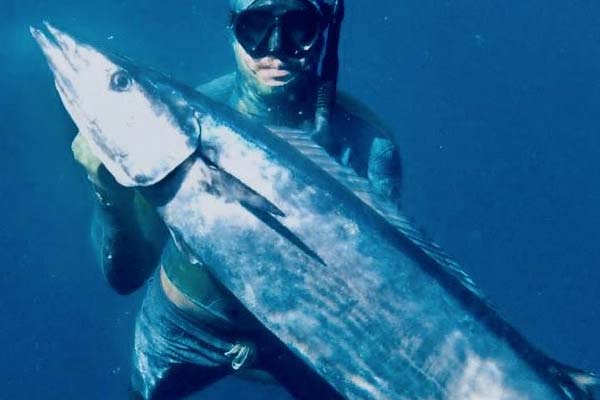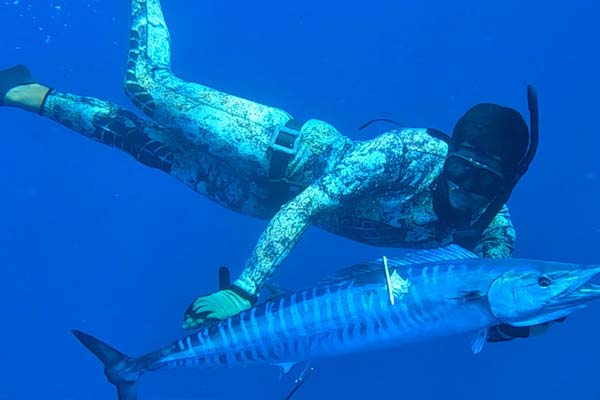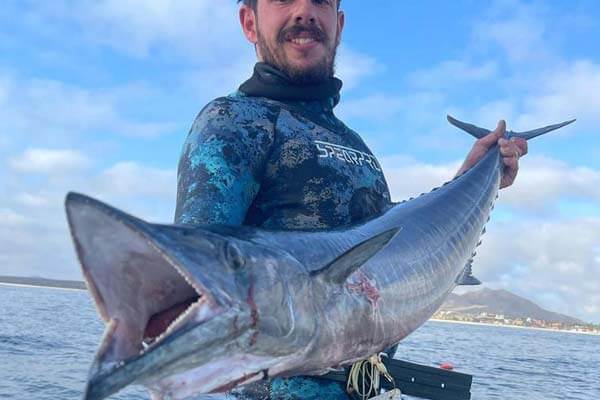 The success of the LBS dive team does not happen by chance. It comes from years studying the topography and testing new theories in different locations and that's exactly what we share with our clients when they charter with us.
Out of nowhere a shoal of mixed sized Wahoo will appear, often mixed within an even larger shoal milkfish, hiding amongst all the commotion and activity. You'll do your best to identify the largest specimen and throw your hand flasher to entice it in closer. At the same time, you will duck dive just a few meters below the surface and start your approach. If the fish seems nervous, you'll need to close the distance cunningly, head directly for the flasher and the wahoo may just get curious enough to come in and see what he's missing out on. That's your chance!
Often you'll leave a dive thinking you've been in an episode of Blue Planet. With so much biodiversity below the waterline, huge shoals of manta rays jumping 2-3m clear out of the water around you, needlefish the size of small Wahoo, Pargo shoaling out of nowhere, man-sized roosterfish bolting past you — it really can leave you speechless.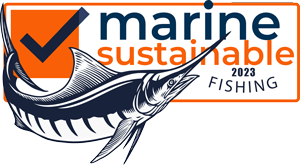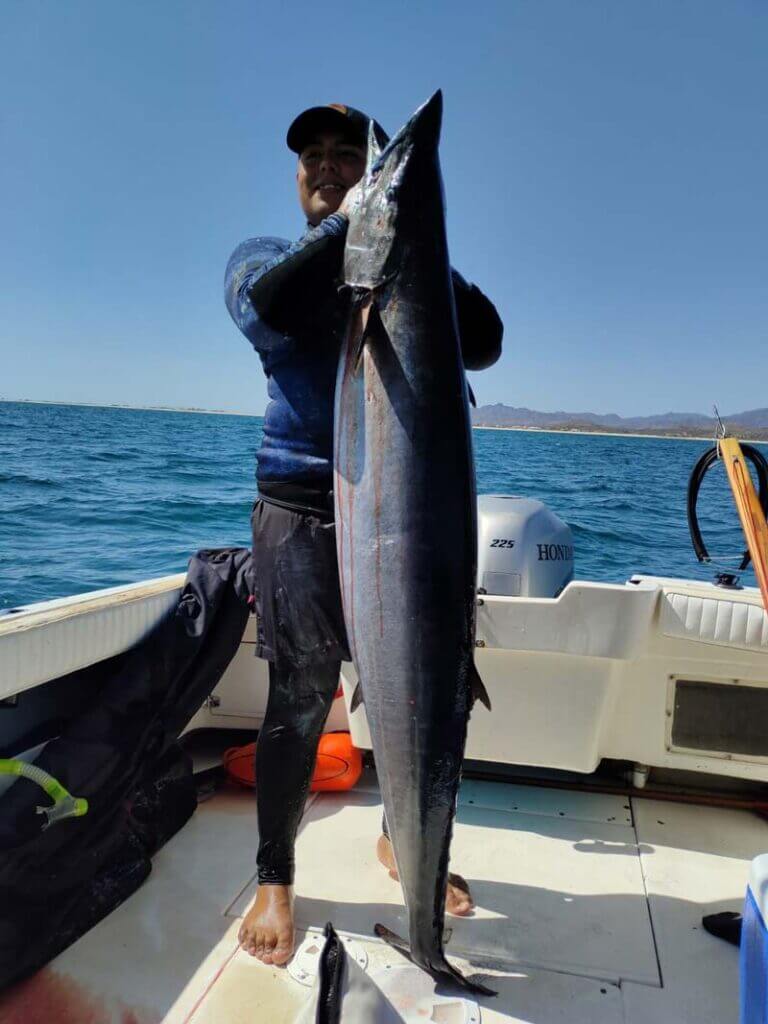 What equipment will I need?
Equipment wise, the float system is often the most critical factor in successfully landing a Wahoo or not – often the actual hunt is the easiest part. You need a small, streamlined float, with some good stretching bungee or thin float line to create as little drag as possible.
Wahoo are famous for their soft flesh; this is one of the reasons they are so delicious. However, this is why so much consideration must be put into your gear selection as it's common to lose these fish to heavy tackle. We also use slip tips religiously – the damage caused by a flopper can result in losing half the meat to tears alone.
Spearguns are largely a personal preference – whatever you feel comfortable with in the open water. We tend to favour a triple banded 130 to 140cm gun.
During the summer period our personal wardrobe consists of a either a full 3mm spearfishing suit or just the 3mm hooded top and boardshorts.
The downside to the Wahoo setup described above is that it's a light tackle rig, it leaves you somewhat unprepared for when that monster Blue Marlin swims by your flasher. While other species can easily be landed on this setup like large Dorado, Yellowtail and nice Amberjacks, if we are targeting large Marlin or heavy AJs then we'll recommend a different gear list.
For those larger fish we tend to use a small leader float separated from a large heavy 35l float by some 3 x stretch bungee.
Whilst it's not uncommon to see very large Dorado and the occasion Amberjack while hunting Wahoo, if you specifically want to target large examples of these species then we can do so at other locations. We know spots to maximise your chances of landing a prime specimen of most species – simply let us know what your goals are and we'll do everything possible to make it happen.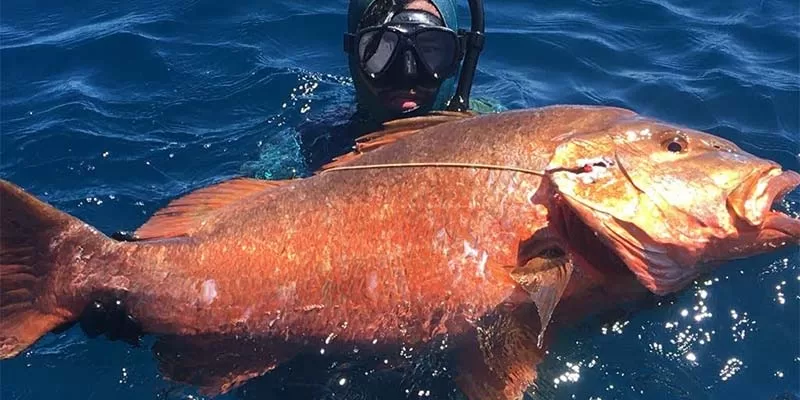 Want to target billfish?
If your goal is targeting bill fish then please read more here.
What to do with your catch?
Los Barrilles maybe small in size, but it's huge on eating options.
Most restaurants and hotels will happily cook your catch for you in a range of traditional formats using locally sourced ingredients.
The chances are you'll have more fish than you can eat. In this case we can arrange for your catch to be filleted, vacuum packed and frozen ready for transportation.
Feeling generous?
The culture here is friendly, deep rooted and rich. We are proud to support and work alongside the local community instead of using large outside investment to bulldoze through it. If you would like to donate your catch, we will ensure that it goes to a deserving home and feeds lots of smiling faces 🙂
Click here for rates